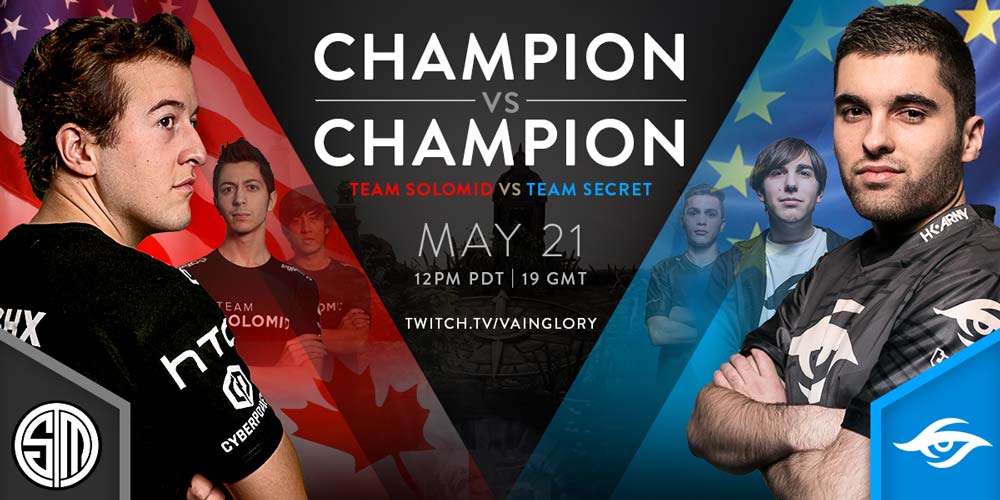 Early-game aggression or late-game scaling? Phinn or Fortress? CullTheMeek or KValafar? Europe server or North America? 
The age-old Vainglory question is: "Which region is stronger?" We'll finally find out when European champion Team Secret faces North American champion Team SoloMid in a special Battle of the Atlantic live from the Super Evil Lair in San Mateo, Calif., on May 21.
---
REPRESENTING YOUR REGION – REWARDS AT STAKE
In addition to immense bragging rights, these regional champions will be playing on your behalf:
If Team Secret wins, every player in Europe region will receive a special in-game prize. Team Secret will also represent China region & Southeast Asia region, who would get the same prize.
If Team SoloMid wins, every player in North America region will receive that in-game prize instead. TSM will also represent South America region & East Asia region, who would get the same prize.
Additional details and the player prize will be revealed as the event approaches. In the meantime, get on your social channel of choice and use hashtags #EU>NA or #NA>EU to show your allegiance and cheer on the team representing your region and your chance to get a in-game gift.
---
TEAM ROSTERS

| | |
| --- | --- |
| TEAM SECRET | TEAM SOLOMID |
| KValafar (laner) | CullTheMeek (laner/jungler) |
| majestiC (jungler) | MICSHE (jungler/laner) |
| Mowglie (roamer) | FlashX (roamer) |
| COucOu (sub/manager) | |
---
Matches begin at noon PDT / 3PM EDT / 17 GMT on twitch.tv/vainglory and mobcrush.com/game/vainglory, as well as Vainglory official Facebook channels.