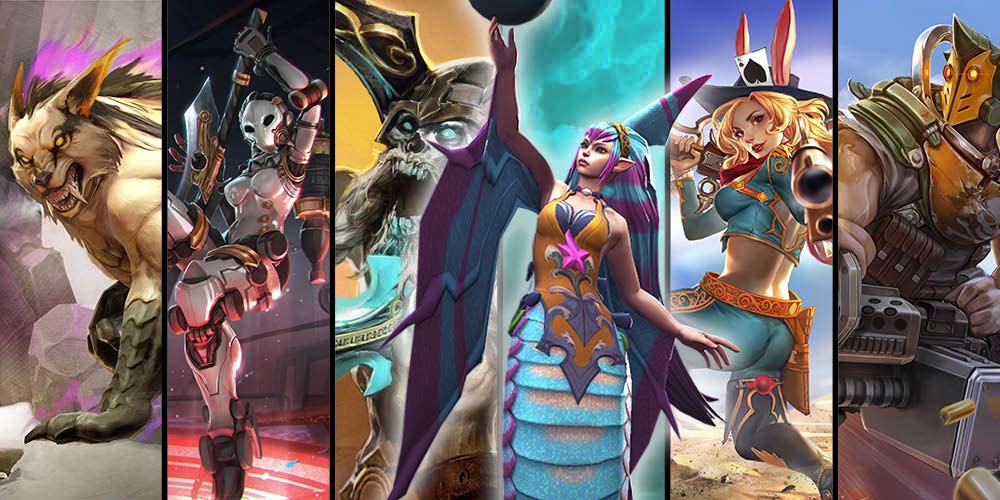 Each week six heroes are temporarily unlocked for play in Casual and Private games. Try this set of heroes today!
---
LORELAI (CAPTAIN)
Lorelai is a hero who controls the flow of teamfights with her heroic perk, That's Swell. Lorelai can be flexed into any role, but she's best played as a backline support and will struggle against quick, hard engages.
---
FORTRESS (CAPTAIN)
This Halcyon Well guardian is a snarling, frightening sight in the jungle. He stalks prey, closes in with teammates, flanks targets and creates challenging, multi-front confrontations. Start Fortress in the jungle, stay near your allies and bite and claw your way to kills.
---
ALPHA (JUNGLER)
Alpha hunts and terminates her targets with ruthless precision. No longer bound to the rules of mortality, she engages in battle without fear or caution. Alpha performs well in the jungle and can take down her targets built either weapon or crystal.
---
KRUL (JUNGLER)
Krul is a jungle nightmare who dominates in 1v1 duels. Able to absorb massive amounts of damage and recover large portions of his own health mid-battle, Krul can bring the pain and survive a beating as long as he can stick to his target.
---
GWEN (CARRY)
Gwen moves swiftly across the map, picking off enemies from a distance. She can shake off negative effects inflicted by her enemies, turning the tables in her favor. Gwen is best played in the lane where she can earn gold and gear up for big fights.
---
SAW (CARRY)
SAW has arguably the highest damage potential in the game … but at the huge expense of mobility. Excellent at sieging important locations, SAW zones out entire regions from the enemy team with Suppressing Fire. Try starting him in lane, earn as much gold as possible, then make your presence felt wherever needed.
---
ABOUT THE FREE HERO ROTATION
The free hero rotation unlocks six heroes each week to play as long and as much as you want in the Casual queue. It's an opportunity to test drive heroes before using ICE or Glory to unlock them.
The free rotation changes every Tuesday and heroes in the rotation usually won't return for a few weeks or months afterward, so unlocking heroes is always worthwhile. The free rotation does not apply to Ranked play to ensure players are already very familiar with the heroes they play in that try-hard environment with skill tiers at stake.
---
Jump into the Fold now with this group of great heroes!