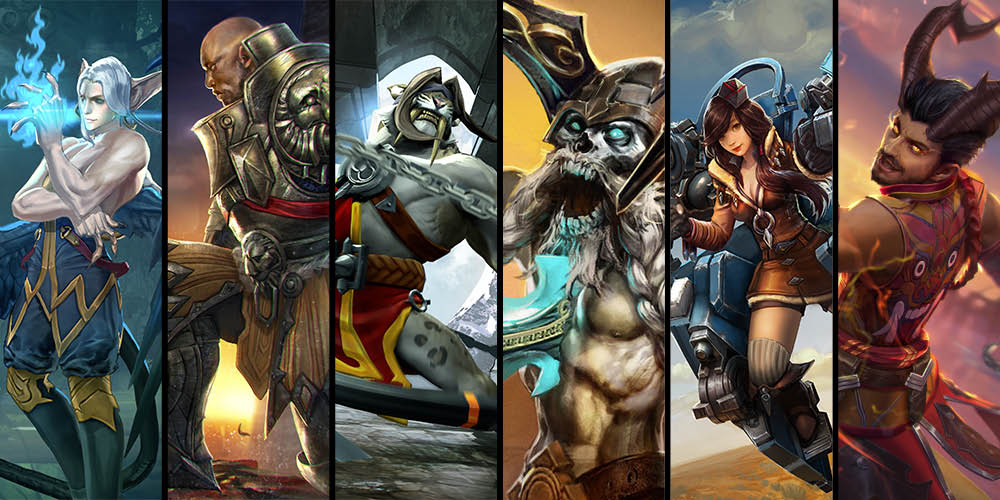 Each week six heroes are temporarily unlocked for play in Casual and Private games. Try this set of heroes today!
---
ADAGIO (CAPTAIN)
The master manipulator of large-scale battles, Adagio brings incredible teamfight presence with huge area-of-effect damage and team-saving abilities. He almost seems too good: He can heal. He can amplify damage. He can stun and nuke the entire enemy team … but none of these can be achieved easily without team-wide coordination. Adagio is extremely flexible and can start as laner, jungler or roamer.
---
LANCE (CAPTAIN)
Lance depends on both his courage and his wits to protect his allies. With his unique polearm-and-shield combat style, he breaks enemy lines and creates opportunities for his friends. Lance can build crystal or utility items to excel in his role as a protector, or he can build weapon items to deal more damage during battle.
---
GLAIVE (JUNGLER)
Glaive has one of the most feared abilities in the game: a jet-powered Afterburn strike that will slice through you and blast you back into a tactically fatal position. In teamfights, Glaive's area-of-effect cleave and Bloodsong lifesteal makes him incredibly hard to bring down. Try Glaive first as a jungler, but roam into the lane to rocket enemies toward your allies and turrets.
---
KRUL (JUNGLER)
Krul is a jungle nightmare who dominates in 1v1 duels. Able to absorb massive amounts of damage and recover large portions of his own health mid-battle, Krul can bring the pain and survive a beating as long as he can stick to his target.
---
SKYE (CARRY)
Skye is a swift sniper able to dance at the edge of fights or dive deep into the enemy backline to kill key targets. Skye's unique strafing attacks change the complexion of fights, and her ability to chase down and catch opponents is unparalleled. Start Skye in the lane, mow down minions and build weapon or crystal depending on your playstyle.
---
REZA (ASSASSIN)
Reza is a fiery assassin who melts enemy heroes by stringing together a series of devastating abilities. His Firestarter perk adds even more damage to basic attacks while Troublemaker allows him to finish off fleeing foes or escape near-death situations. 
---
ABOUT THE FREE HERO ROTATION
The free hero rotation unlocks six heroes each week to play as long and as much as you want in the Casual queue. It's an opportunity to test drive heroes before using ICE or Glory to unlock them.
The free rotation changes every Tuesday and heroes in the rotation usually won't return for a few weeks or months afterward, so unlocking heroes is always worthwhile. The free rotation does not apply to Ranked play to ensure players are already very familiar with the heroes they play in that try-hard environment with skill tiers at stake.
---
Jump into the Fold now with this group of great heroes!